Ελληνικά Στο Π + Φ: Εντατικά μαθήματα ελληνικών για αρχάριους
Regular price
Sale price
£27.99 GBP
Unit price
per
Sale
Sold out
A comprehensive textbook for self-taught and class-taught learners of modern Greek at beginner level.
Δείτε μερικές σελίδες από το βιβλίο

Ένα εγχειρίδιο διδασκαλίας της ελληνικής ως δεύτερης / ξένης γλώσσας για όσους επιθυμούν να κατακτήσουν τα πρώτα στάδια ελληνομάθειας σε σύντομο χρονικό διάστημα.
- 11 ενότητες με κείμενα, διαλόγους, φαινόμενα φωνητικής, μορφολογίας και σύνταξης, καθώς και ποικίλες ασκήσεις και δραστηριότητες
- Παράρτημα με ασκήσεις για εμπέδωση των φαινομένων και για επέκταση της διδασκαλίας
- CD με τα κείμενα, τους διαλόγους και τις ασκήσεις κατανόησης προφορικού λόγου
- Πίνακες γραμματικής
- Λεξιλόγιο (ελληνικό-αγγλικό-ρωσικό)

Το βιβλίο αποτελεί προϊόν μακράς διδακτικής εμπειρίας και έρευνας καθώς και ανάλυσης των αναγκών διδασκαλίας στις τάξεις του Σχολείου Νέας Ελληνικής Γλώσσας (ΣΝΕΓ) του Αριστοτελείου Πανεπιστημίου Θεσσαλονίκης.
Περιεχόμενα
Δείτε τα πλήρη περιεχόμενα του βιβλίου

Πρόλογος || Εισαγωγή || Εισαγωγική Ενότητα: Το ελληνικό αλφάβητο, Τονισμός-Στίξη || Ενότητα 1: Γεια σου! Τι κάνεις; || Ενότητα 2: Πού πάει η παρέα; || Ενότητα 3: Στο σπίτι || Ενότητα 4: Βγαίνουμε έξω || Ενότητα 5: Επανάληψη Α' || Ενότητα 6: Κάθε μέρα || Ενότητα 7: Στην αγορά || Ενότητα 8: Εκείνο το καλοκαίρι || Ενότητα 9: Βόλτα στην πόλη || Ενότητα 10: Επανάληψη Β' || Παράρτημα: Ασκήσεις, Πίνακες γραμματικής, Κείμενα ακουστικών ασκήσεων, Λεξιλόγιο, Βιβλιογραφία
| | |
| --- | --- |
| Pages | 234 |
| Publication Date | 2021 |
| Publisher | Gutenberg |
| ISBN | 9789600122855 |
| Binding | Paperback |
| Author | Λήδα Τριανταφυλλίδου, Μαρίνα Κοκκινίδου, Χριστίνα Τακούδα, Ειρήνη Σεχίδου, Κατερίνα Σταυριανάκη |
Local Delivery Available for Leeds postcodes
Share
View full details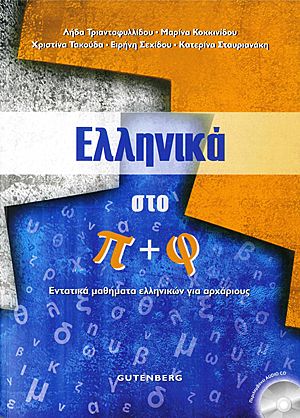 ALL GOODS TRAVEL WITH THE RESPONSIBILITY OF THE CUSTOMER