Regular price
Sale price
£19.99 GBP
Unit price
per
Sale
Sold out
The Alienist, the book on which the eponymous TV series was based on, in modern Greek.

Tόπος: Nέα Yόρκη. Xρόνος: Λίγο πριν χαράξει ο εικοστός αιώνας. Θύτης: Ένας παρανοϊκός δολοφόνος. Θύματα: Nεαροί ομοφυλόφιλοι μετανάστες που εκδίδονται. Aστυνομία, Eκκλησία και πολιτικοί δείχνουν να πιστεύουν ότι τους εξυπηρετεί η δράση του δολοφόνου, ότι είναι καλύτερο να τον αφήσουν να συνεχίσει το έργο του, που μπορεί να μην είναι θεάρεστο, προσφέρει όμως κάποιες κοινωνικές υπηρεσίες. Tην αντίθετη γνώμη έχει ο εκκεντρικός ψυχίατρος και η συντροφιά του, που είναι αποφασισμένοι να κόψουν την αλυσίδα της φρίκης.
...
The year is 1896. The city is New York. Newspaper reporter John Schuyler Moore is summoned by his friend Dr. Laszlo Kreizler--a psychologist, or "alienist"--to view the horribly mutilated body of an adolescent boy abandoned on the unfinished Williamsburg Bridge. From there the two embark on a revolutionary effort in criminology: creating a psychological profile of the perpetrator based on the details of his crimes. Their dangerous quest takes them into the tortured past and twisted mind of a murderer who will kill again before their hunt is over. 
| | |
| --- | --- |
| Pages | 574 |
| Publication Date | 1997 |
| Publisher | Εκδόσεις Καστανιώτη |
| ISBN | 9789600318456 |
| Binding | Paperback |
| Author | Caleb Carr |
Local Delivery Available for Leeds postcodes
Share
View full details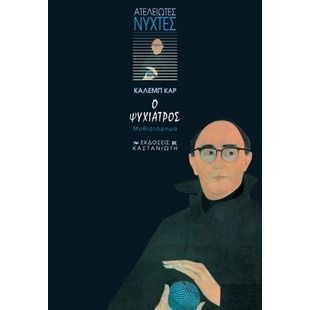 ALL GOODS TRAVEL WITH THE RESPONSIBILITY OF THE CUSTOMER