1984 - George Orwell (Pocket)
Regular price
Sale price
£15.99 GBP
Unit price
per
Sale
Sold out
George Orwell's 1984 in modern Greek and a pocket edition, translated by Auguste Corteau and prefaced by Robert Harris for Psichogios Editions.Read an excerpt here.

Το έτος είναι το 1984, και σε ολόκληρο τον δυτικό κόσμο έχει επιβληθεί το ολοκληρωτικό καθεστώς της Ωκεανίας, το οποίο επιδίδεται, μέσα από ηλεκτρονικές οθόνες και την Αστυνομία Σκέψης, στη συνεχή ηλεκτρονική παρακολούθηση των πολιτών. Στην κορυφή της εξουσίας, ο πανίσχυρος, άφαντος αλλά πανταχού παρών, εντέλει, Μεγάλος Αδελφός.
Μέσα σε αυτό το ασφυκτικό πλαίσιο, ο Ουίνστον Σμιθ, ένα φαινομενικά πειθήνιο μέλος του Κόμματος, ονειρεύεται την ανατροπή του καθεστώτος. Η γνωριμία του με τη νεότερή του Τζούλια πυροδοτεί ένα ανεξέλεγκτο ερωτικό πάθος. Καθώς ο έρωτας λογίζεται εδώ πράξη αντίστασης, οι δύο εραστές θα βρεθούν αντιμέτωποι με τους χειρότερους εφιάλτες τους.
Είναι εκπληκτικό πώς το ζοφερό όραμα του 1984 έρχεται και επανέρχεται στο προσκήνιο: από τα χρόνια των απολυταρχικών κομμουνιστικών καθεστώτων της Ανατολικής Ευρώπης έως τις στρατοκρατικές δικτατορίες σε χώρες της Δύσης και του λεγόμενου Τρίτου Κόσμου, και κυρίως σήμερα, στην εποχή του θρησκευτικού φανατισμού, της παγκοσμιοποίησης και του Διαδικτύου, με τη συνεχιζόμενη συζήτηση περί ψευδών ειδήσεων και των μαζικών ηλεκτρονικών παρακολουθήσεων από κυβερνήσεις αλλά και μεγάλες ιδιωτικές εταιρείες, το δυστοπικό μυθιστόρημα που ο Όργουελ συνέγραψε το 1948 (αντιστρέφοντας τα δύο τελευταία ψηφία στον τίτλο του βιβλίου) καταδεικνύεται σήμερα πιο επίκαιρο από ποτέ.
Το βιβλίο μεταφέρθηκε πολλές φορές στο σινεμά και στην τηλεόραση, ενώ έχει γίνει και όπερα. Μία από τις πιο γνωστές κινηματογραφικές μεταφορές ήταν το 1984, σε σκηνοθεσία του Μάικλ Ράντφορντ και πρωταγωνιστές τον Τζον Χερτ, τη Σουζάνα Χάμιλτον και τον Ρίτσαρντ Μπάρτον στον τελευταίο ρόλο της ζωής του.  
| | |
| --- | --- |
| Pages | 448 |
| Publication Date | 2021 |
| Publisher | Ψυχογιος |
| ISBN | 9786180139051 |
| Binding | Paperback |
| Author | George Orwell / Translator: Κορτώ Αύγουστος |
Local Delivery Available for Leeds postcodes
Share
View full details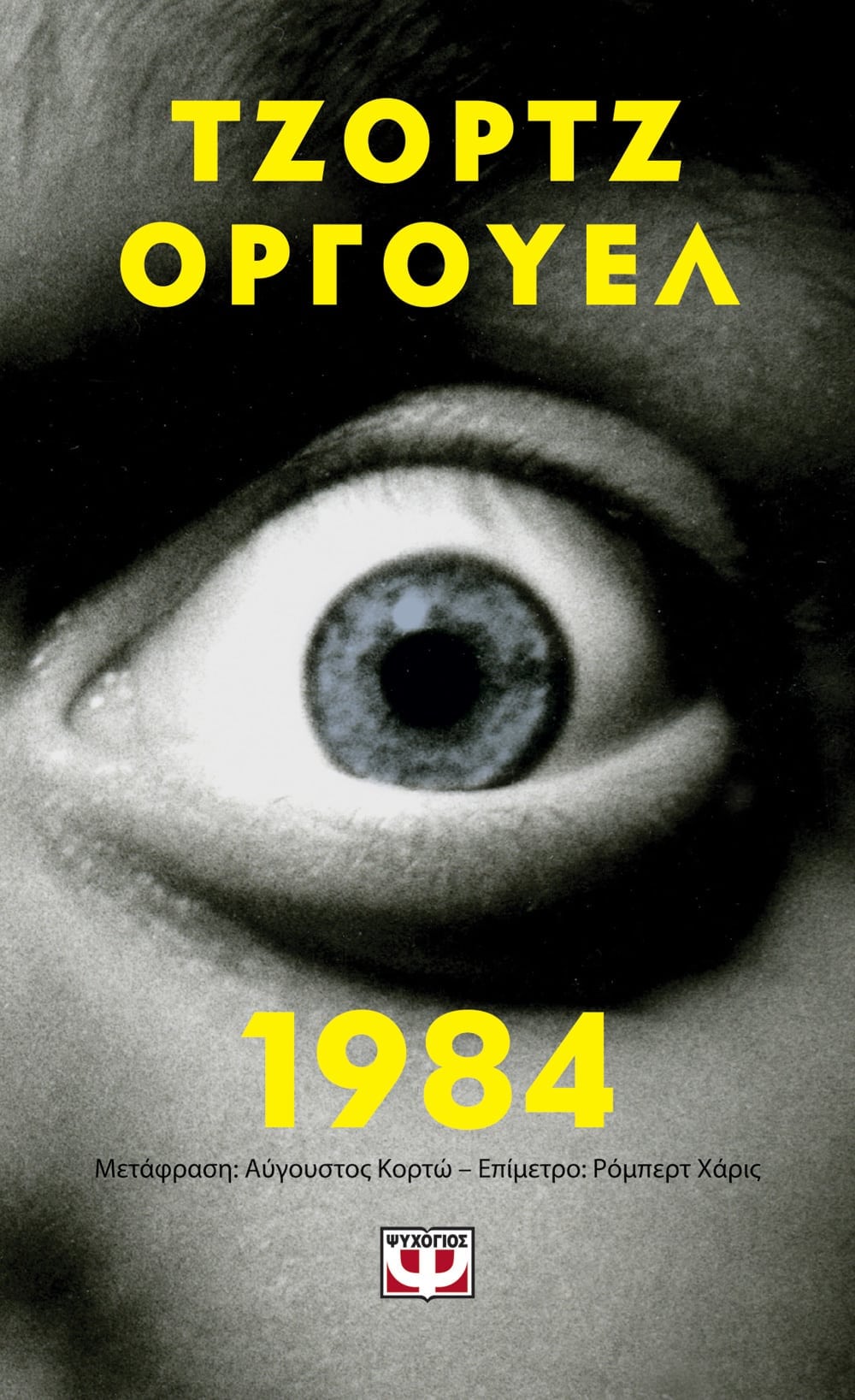 ALL GOODS TRAVEL WITH THE RESPONSIBILITY OF THE CUSTOMER