Αντιμετωπίζοντας... την κατάθλιψη - Lee Brosan / Brenda Hogan
Regular price
Sale price
£9.99 GBP
Unit price
per
Sale
Sold out
An introduction to coping with depression in modern Greek. Read an excerpt here.

Πώς θα αντιμετωπίσετε την κατάθλιψη

Κάθε χρόνο όλο και περισσότεροι άνθρωποι υποφέρουν από κατάθλιψη. Μπορεί όμως να αντιμετωπιστεί αποτελεσματικά με τη γνωσιακή συμπεριφοριστική θεραπεία (CBT), η οποία είναι γνωστή για τα άμεσα αποτελέσματά της, καθώς δεν χρησιμοποιεί την ψυχανάλυση, αλλά μεθόδους που θα σας βοηθήσουν να αναγνωρίσετε τη σύνδεση ανάμεσα στις σκέψεις σας και στην κατάθλιψη.
Γραμμένο από ειδικούς επιστήμονες, αυτό το μικρό βιβλίο εξηγεί τι είναι η κατάθλιψη και πώς σας κάνει να νιώθετε. Σας βοηθά να αναγνωρίσετε τα συμπτώματα, προτείνει τεχνικές αντιμετώπισης και λειτουργεί συμπληρωματικά σε κάθε θεραπεία.

Θα μάθετε πώς:
• Εμφανίζεται η κατάθλιψη και τι την ανατροφοδοτεί.
• Να εντοπίζετε και να αποφεύγετε σκέψεις που συντηρούν την κατάθλιψη.
• Να αναπτύξετε δεξιότητες για επίλυση προβλημάτων και ισορροπημένη σκέψη.

Αισθάνεστε πιεσμένοι, δυστυχισμένοι, απελπισμένοι ή εκνευρισμένοι; Νιώθετε ότι έχετε χάσει το ενδιαφέρον σας για δραστηριότητες που προηγουμένως απολαμβάνατε; Μήπως όλα σας φαίνονται αγγαρεία ή αισθάνεστε συνεχώς κουρασμένοι;
Αν ισχύουν κάποια από τα παραπάνω, ίσως υποφέρετε από κατάθλιψη.
Διαβάστε αυτόν τον εύχρηστο οδηγό για να δείτε πώς μπορείτε να διαχειριστείτε το πρόβλημα, για ανακούφιση των συμπτωμάτων και καλύτερη ποιότητα ζωής.
| | |
| --- | --- |
| Pages | 120 |
| Publication Date | 2020 |
| Publisher | Διόπτρα |
| ISBN | 9789606530579 |
| Binding | Paperback |
| Author | Lee Brosan / Brenda Hogan |
Local Delivery Available for Leeds postcodes
Share
View full details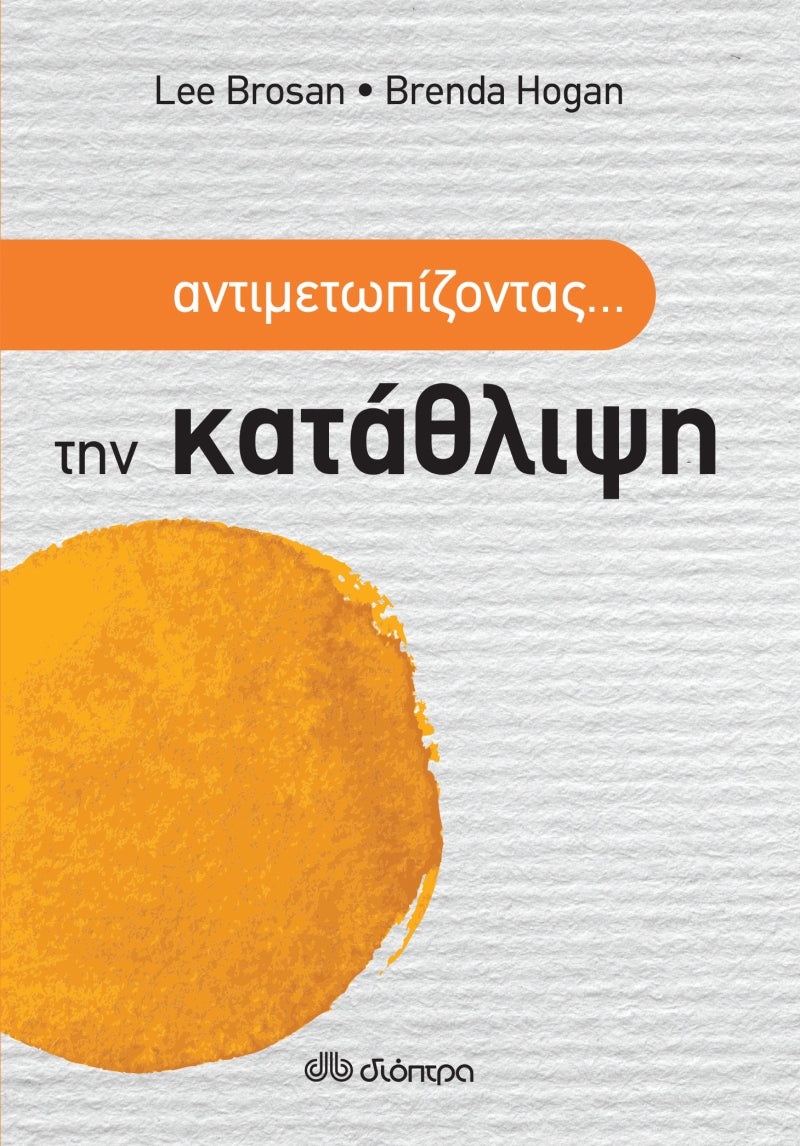 ALL GOODS TRAVEL WITH THE RESPONSIBILITY OF THE CUSTOMER