Άπαντα - Ησίοδος (Original/ Modern Greek Text)
Regular price
Sale price
£9.99 GBP
Unit price
per
Sale
Sold out
Θεογονία: Η γένεση των θεών και η δημιουργία του κόσμου, οι αγώνες και οι συγκρούσεις για την κοσμική τάξη μετά την επικράτηση του Δία. Η πρώτη προσπάθεια συστηματοποίησης της ελληνικής μυθολογίας.
Έργα και ημέραι: Με αφορμή τη φιλονικία με τον αδελφό του, ο ποιητής κατακρίνει την αδικία, υμνεί το δίκαιο και εκθειάζει ως ιδεώδες την εργασία. Με πολλές συμβουλές για ηθικά ζητήματα, με πλήθος πληροφοριών, λαογραφικών και ηθολογικών, το έργο φέρνει στο προσκήνιο τον κόσμο των φτωχών γεωργών και ναυτικών, την καθημερινή ζωή τους και τον μόχθο τους.
Ασπίς Ηρακλέους: Περιγραφή της ασπίδας του Ηρακλή και της μονομαχίας του ήρωα με τον Κύκνο.
Αποσπάσματα.
Hesiod's Theogony, Works and Days, Shield of Heracles and other excerpts in modern and ancient Greek.
| | |
| --- | --- |
| Pages | 291 |
| Publication Date | Κάκτος/ Kaktos |
| Publisher | 1993 |
| ISBN | 9789603521365 |
| Binding | Paperback |
| Author | Ησίοδος/ Hesiod |
Local Delivery Available for Leeds postcodes
Share
View full details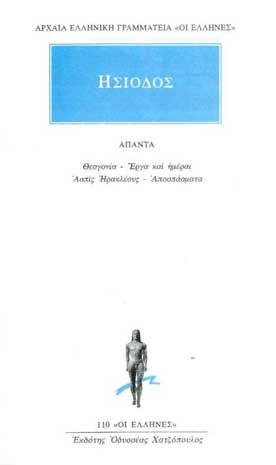 ALL GOODS TRAVEL WITH THE RESPONSIBILITY OF THE CUSTOMER