Οι Διαθήκες - Margaret Atwood
Regular price
Sale price
£20.99 GBP
Unit price
per
Sale
Sold out
The Testaments by Margaret Atwood in modern Greek is the sequel that picks up the story more than fifteen years after Offred stepped into the unknown, with the explosive testaments of three female narrators from Gilead. In this brilliant sequel to The Handmaid's Tale, acclaimed author Margaret Atwood answers the questions that have tantalized readers for decades. Read an excerpt here.

Ανακάλυψε το αριστουργηματικό sequel του βιβλίου Η ΙΣΤΟΡΙΑ ΤΗΣ ΘΕΡΑΠΑΙΝΙΔΑΣ (The Handmaid's Tale) της Margaret Atwood, ΟΙ ΔΙΑΘΗΚΕΣ (The Testaments).
Δεκαπέντε χρόνια μετά τα όσα περιγράφονται στην Ιστορία της Θεραπαινίδας, το θεοκρατικό καθεστώς της Δημοκρατίας της Γαλαάδ παραμένει ισχυρό, αλλά τα πρώτα σημάδια της παρακμής αρχίζουν να γίνονται φανερά. Σε αυτή την κρίσιμη στιγμή, οι ζωές τριών ολότελα διαφορετικών γυναικών συναντιούνται, και τα αποτελέσματα μπορεί να είναι εκρηκτικά.

Οι δύο ανήκουν στην πρώτη γενιά που ενηλικιώνεται μέσα στην τυραννία. Στις δικές τους μαρτυρίες προστίθεται μια τρίτη: της Θείας Λίντια, το περίπλοκο παρελθόν και το αβέβαιο μέλλον της οποίας επιφυλάσσουν πολλές εκπλήξεις και ανατροπές.
Καθώς η Άτγουντ μάς οδηγεί στα άδυτα του καθεστώτος της Γαλαάδ, καθεμιά από τις ηρωίδες της πρέπει να αποδεχτεί ποια είναι και να αποφασίσει ως πού είναι διατεθειμένη να φτάσει γι' αυτό που πιστεύει…
Η αριστουργηματική συνέχεια της θρυλικής Ιστορίας της Θεραπαινίδας. Ένα έργο επίκαιρο, που προορίζεται να γίνει κλασικό.

| | |
| --- | --- |
| Pages | 536 |
| Publication Date | 2020 |
| Publisher | Ψυχογιός / Psichogios |
| ISBN | 9786180133950 |
| Binding | Paperback |
| Author | Margaret Atwood / Αύγουστος Κορτώ |
Local Delivery Available for Leeds postcodes
Share
View full details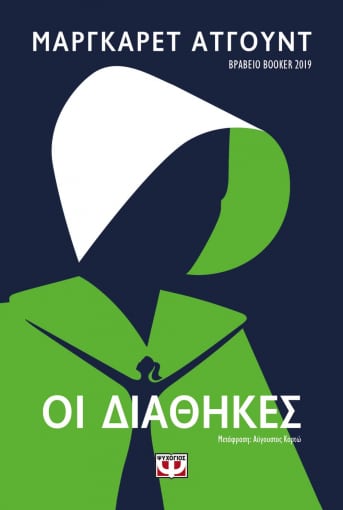 ALL GOODS TRAVEL WITH THE RESPONSIBILITY OF THE CUSTOMER