Γαστρονομικόν - Γιώργος Ηλιόπουλος
Regular price
Sale price
£17.99 GBP
Unit price
per
Sale
Sold out
Η Τέχνη της Μαγειρικής στην Αρχαία Ελλάδα.
The Art of Cooking in Ancient Greece.
Κατά κύριο λόγο η προχριστιανική Ελλάδα αντιπροσωπεύει για τον σύγχρονο κόσμο το λίκνο της αρχιτεκτονικής (χάρη στα μνημεία της), του θεάτρου (χάρη στην τραγωδία, την κωμωδία ή το σατυρικό της δράμα), της φιλοσοφίας (χάρη στα πάμπολλα συγγράμματα των επιφανών φιλοσόφων της), των μαθηματικών και της αστρονομίας (χάρη στα διάφορα εγχειρίδια μαθηματικών και αστρονομίας) ή της δημοκρατίας (χάρη στη δεσπόζουσα θέση κοινωνικών, πολιτιστικών και πολιτισμικών παραγόντων που οδηγούν στην πρακτική εφαρμογή της).
Αυτή η εικόνα καλύπτει και περιθωριοποιεί ζητήματα που σχετίζονται με τη διατροφή και τη μαγειρική των ανθρώπων εκείνης της εποχής, με συνέπεια για τον σύγχρονο Ευρωπαίο η κοιτίδα της μαγειρικής και ειδικά της υψηλής μαγειρικής να αντιπροσωπεύεται από τους Ρωμαίους και τις αξιοθαύμαστες επιδόσεις τους στον τομέα αυτό, με κεντρικό πυρήνα το διασωζόμενο εγχειρίδιο μαγειρικής με τίτλο DE RE CONQUINARIA που αποδίδεται στον Απίκιο, έναν φανατικό λάτρη της γαστρονομίας και της υψηλής μαγειρικής του Ι μεταχριστιανικού αιώνα.
Στην πραγματικότητα πρόκειται για ένα μύθο, καθώς αρκετούς αιώνες πριν από τον Απίκιο κυκλοφορούν στον ελλαδικό και περιελλαδικό χώρο πάμπολλα εγχειρίδια μαγειρικής, από τα οποία διασώζονται ελάχιστα αποσπάσματα ή στη χειρότερη περίπτωση μόνον τα ονόματα των συγγραφέων και οι τίτλοι των έργων τους.

Αυτή η έφεση προς τη γαστρονομία στον προχριστιανικό ελλαδικό χώρο αναδύεται συχνά σε διάφορα κείμενα και σχετικά πρόσφατα στην εξαιρετική εργασία του Andrew Dalby (1), όπου ειδικά στα κεφάλαια 5 και 6, εξετάζονται θέματα ποικιλίας οίνων και ποιότητας τροφίμων σε συνδυασμό με τις επιδράσεις του λεγόμενου περιελλαδικού χώρου, με ιδιαίτερη έμφαση στις περιοχές της Λυδίας, της Φρυγίας αλλά και της Σικελίας και της νοτίου Ιταλίας, περιοχών με έντονη παρουσία Ελλήνων εποίκων και εμπόρων με εκτενείς δραστηριότητες.
Οι πληροφορίες αυτές, πέραν του ότι καταρρίπτουν τον μύθο της προέλευσης της υψηλής μαγειρικής από τους Ρωμαίους, αποκαλύπτουν και πληθώρα στοιχείων της καθημερινής ζωής που συμμετέχουν ίσως αποφασιστικά στη διαμόρφωση του ελληνικού πολιτισμικού γίγνεσθαι, από τα οποία ιχνηλατείται η εξέλιξη των διατροφικών συνηθειών σε ένα γεωγραφικό εύρος που καλύπτει τη νότιο Ιταλία και τη Σικελία, τον κυρίως ελλαδικό χώρο, την Κύπρο, τις ακτές της Μικράς Ασίας και τα παράλια του Ευξείνου Πόντου, πιστοποιώντας για πρώτη φορά την ανάδυση του χαρακτήρα του λεγόμενου πολίτη του κόσμου, ένα χαρακτήρα που επανέρχεται στην Ευρώπη μετά τον XVIII αιώνα. 
| | |
| --- | --- |
| Pages | 300 |
| Publication Date | 2012 |
| Publisher | Έναστρον / Enastron |
| ISBN | 9789606649790 |
| Binding | Paperback |
| Author | Γιώργος Ηλιόπουλος |
Local Delivery Available for Leeds postcodes
Share
View full details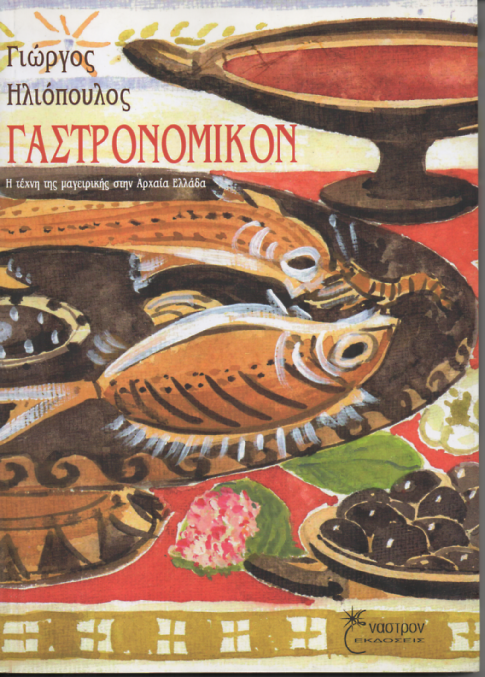 ALL GOODS TRAVEL WITH THE RESPONSIBILITY OF THE CUSTOMER