Γιορτάζω-Τραγουδώ, Παίζω-Δημιουργώ #4 (Άνοιξη) +CD
Regular price
Sale price
£13.99 GBP
Unit price
per
Sale
Sold out
A book for children to learn about Spring and the 40-days lent period before Easter.
Καλωσήρθατε στη γιορτινή παρέα της Άνοιξης. Άνοιξη! Ανοίγουν οι ουρανοί! Άνοιξη και Σαρακοστή έρχονται πάντοτε μαζί. Και η γιορτινή παρέα έτοιμη να τραγουδήσει και να ψάλει. Να ζωγραφίσει, να παίξει και να μαγειρέψει. Καλό Τριώδιο! Καλή Σαρακοστή! Έλα κι εσύ να τη ζήσουμε μαζί. 
Πρόκειται για το 4ο βιβλίο της επιτυχημένης σειράς που κάθε παιδί ενθουσιάζει και κάθε γονιό…ξεκουράζει.
Ιστορίες, τραγούδια, παιχνίδια, ύμνοι, ιδέες για μαγειρική και ένα χορταστικό Cd που θα απολαύσουν γονείς και παιδιά στο αυτοκίνητο, στο σπίτι, στο σχολείο, στην τάξη. Ένα βιβλίο που μπορεί να απασχολήσει το παιδί για ένα ολόκληρο τρίμηνο.
Για τις ηλικίες από 5 έως 11 ετών. Σίγουρα θα το αγαπήσουν και τα μικρότερα παιδιά μέσα από την ακρόαση του ηχητικού υλικού.
| | |
| --- | --- |
| Pages | 47 |
| Publication Date | 2017 |
| Publisher | Άθως |
| ISBN | 9789604950096 |
| Binding | Paperback |
| Author | Μαρίνα Παλιάκη-Μπόκα, Ελπίδα Παλιάκη-Ιεραπετρίτη |
Local Delivery Available for Leeds postcodes
Share
View full details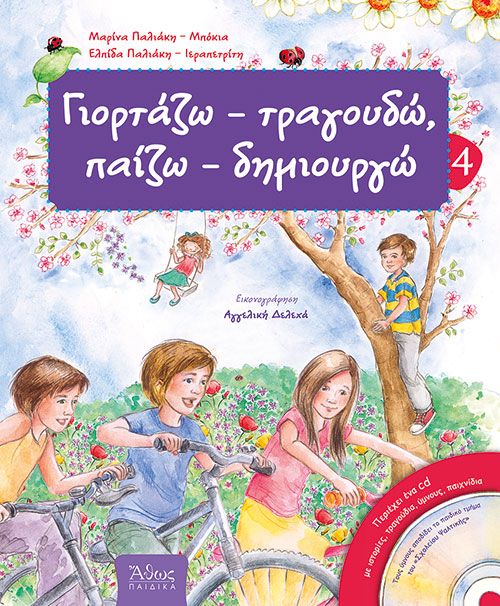 ALL GOODS TRAVEL WITH THE RESPONSIBILITY OF THE CUSTOMER