Ιμαρέτ: Στη Σκιά του Ρολογιού - Γιάννης Καλπούζος
Regular price
Sale price
£22.99 GBP
Unit price
per
Sale
Sold out
A historical novel that takes place in Greece during the Ottoman rule, in 1854.
Άρτα 1854, Οθωμανοκρατία. Δυο αγόρια, που μέλλει να γίνουν αδελφικοί φίλοι, γεννιούνται την ίδια νύχτα, ο Λιόντος και ο Nετζίπ. Το μυθιστόρημα παρακολουθεί διαδοχικά και από τη σκοπιά του καθενός τη ζωή τους σε ήρεμους χρόνους, αλλά και σε καιρούς εντάσεων και επαναστάσεων, αναπαριστώντας με μοναδικό τρόπο μια ολόκληρη εποχή.
Αλληλοδιδακτικό σχολείο, παιγνιώδεις φάρσες στον διά βίου ορκισμένο εχθρό τους Φάσγανο, οι δίδυμοι Εβραίοι Γιοσέφ και Μεναχέμ, ο έρωτας που και για τους δύο φίλους θα έχει απρόσμενη εξέλιξη, οι μορφές των δύο μανάδων της Αγνής και της Σαφιγιέ, η κοσμοπολίτισσα Αναστασία, χοροεσπερίδες, Καφέ Αμάν, πετροπόλεμος, Ραμαζάνι, χαμάμ, τούρκικος Καραγκιόζης, πορνεία, αφορισμοί, κολίγοι, τσιφλικάδες, μάγκες της εποχής, εθνικισμός και μισαλλοδοξία, πλούτος και εξαθλίωση, γλυκιά και πικρή ζωή. Όλα έχουν θέση στο ιμαρέτ του Θεού, όπως λέει ο παππούς Ισμαήλ, ο θυμόσοφος, ανθρωπιστής και προεξάρχων του χορού των ηρώων, που καταδικάζει με σκωπτικό τρόπο την ανθρώπινη ματαιοδοξία και τις μικροπρεπείς συμπεριφορές.
Στη σκιά του ρολογιού που χτυπά τις οθωμανικές ώρες, Έλληνες, Οθωμανοί και Εβραίοι καταφέρνουν, σε πείσμα των όποιων εξουσιών απεργάζονται τη διχόνοια και παρά τις διαφορές τους να συνυπάρξουν, να ονειρεύονται, να ελπίζουν, να ερωτεύονται και να αναπτύξουν στέρεες σχέσεις φιλίας.
| | |
| --- | --- |
| Pages | 592 |
| Publication Date | 2015 |
| Publisher | Ψυχογιός/Psichogios |
| ISBN | 9786180111194 |
| Binding | Paperback |
| Author | Γιάννης Καλπούζος |
Local Delivery Available for Leeds postcodes
Share
View full details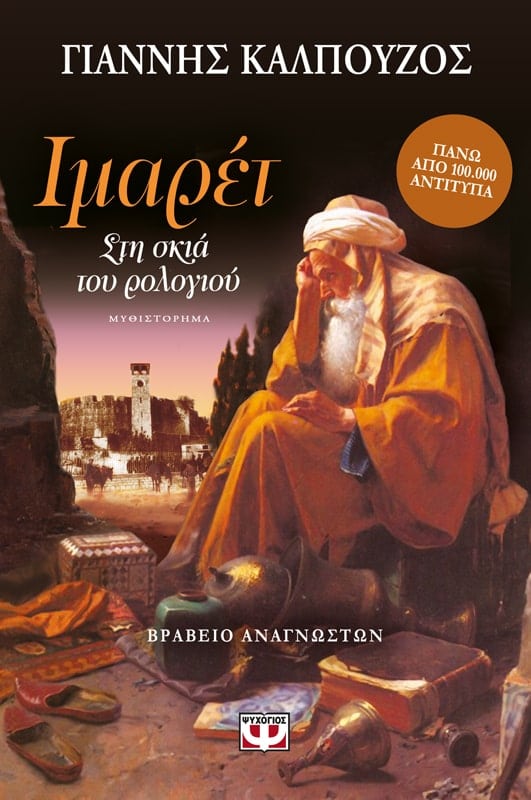 ALL GOODS TRAVEL WITH THE RESPONSIBILITY OF THE CUSTOMER