Κάραβαλ/ Caraval - Stephanie Garber
Regular price
Sale price
£17.99 GBP
Unit price
per
Sale
Sold out
Ένας θρυλικός διαγωνισμός, ένα σαγηνευτικό ειδύλλιο, ένας άρρηκτος δεσμός ανάμεσα σε δύο αδελφές.

Η Σκάρλετ Ντράγκνα δεν έχει φύγει ποτέ από το μικροσκοπικό νησί όπου ζει με την αδελφή της, Τέλλα. Όταν ο πανίσχυρος και σκληρός πατέρας τους της επιβάλει να παντρευτεί, το όνειρο της Σκάρλετ να συμμετάσχει στο Κάραβαλ –τη συναρπαστική παράσταση που λαμβάνει χώρα μία φορά τον χρόνο– γκρεμίζεται. Κι όμως, η πρόσκληση που τόσα χρόνια ονειρεύεται επιτέλους φτάνει. Και οι δυο αδελφές ξεκινούν για την παράσταση. Μόνο που η Τέλλα πέφτει θύμα απαγωγής από τον εγκέφαλο του Κάραβαλ, τον Λέτζεντ. Ο λόγος είναι ότι η νεαρή κοπέλα αποτελεί το θέμα του φετινού Κάραβαλ, και όποιος τη βρει πρώτος θα είναι ο νικητής. Η Σκάρλετ ξέρει ότι όλα όσα συμβαίνουν κατά τη διάρκεια του Κάραβαλ είναι μόνο μια περίτεχνη παράσταση. Ωστόσο, άθελά της μπλέκεται σε ένα παιχνίδι αγάπης και μαγείας. Και είτε το Κάραβαλ είναι αληθινό είτε όχι, η Σκάρλετ πρέπει να βρει την Τέλλα πριν οι πέντε νύχτες του παιχνιδιού τελειώσουν. Διαφορετικά θα θέσει σε λειτουργία ένα επικίνδυνο ντόμινο και η πολυαγαπημένη της αδελφή θα εξαφανιστεί για πάντα.

Καλωσήρθατε στο Κάραβαλ… Προσοχή μη σας παρασύρει.
...
Welcome to Caraval, where nothing is quite what it seems. Scarlett has never left the tiny isle of Trisda, pining from afar for the wonder of Caraval, a once-a-year week-long performance where the audience participates in the show.Caraval is Magic. Mystery. Adventure. And for Scarlett and her beloved sister Tella it represents freedom and an escape from their ruthless, abusive father.When the sisters' long-awaited invitations to Caraval finally arrive, it seems their dreams have come true. But no sooner have they arrived than Tella vanishes, kidnapped by the show's mastermind organiser, Legend. Scarlett has been told that everything that happens during Caraval is only an elaborate performance. But nonetheless she quickly becomes enmeshed in a dangerous game of love, magic and heartbreak. And real or not, she must find Tella before the game is over, and her sister disappears forever.
| | |
| --- | --- |
| ages | 432 |
| Publication Date | 2018 |
| Publisher | Ψυχογιός/Psichogios |
| ISBN | 9786180126570 |
| Binding | Paperback |
| Author | Stephanie Garber |
Local Delivery Available for Leeds postcodes
Share
View full details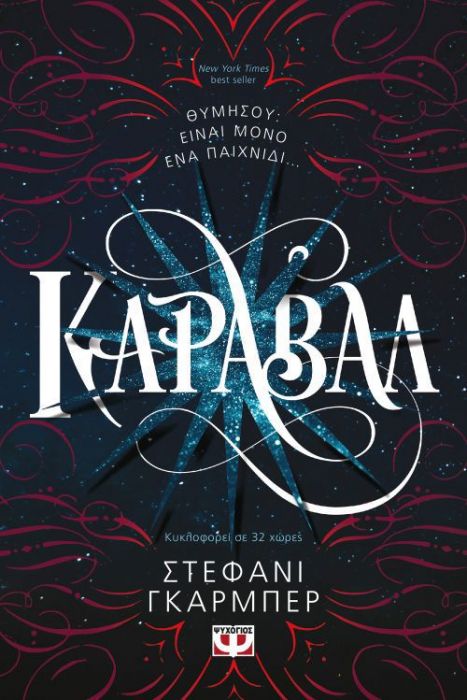 ALL GOODS TRAVEL WITH THE RESPONSIBILITY OF THE CUSTOMER