Οι Λέξεις Δεν Είναι για να Πληγώνουμε - Elisabeth Verdick
Regular price
Sale price
£8.99 GBP
Unit price
per
Sale
Sold out
Words are not for Hurting by Elisabeth Verdick in modern Greek.
Χρειάζονται μόνο 24 γράμματα για να φτιάξουμε εκατομμύρια λέξεις. Άλλες είναι μικρές, άλλες μεγάλες, άλλες εκφράζουν ευγένεια, άλλες όχι.
Όσο τα παιδιά μεγαλώνουν μαθαίνουν περισσότερες λέξεις. Και τις χρησιμοποιούν.
Αλλά ανάμεσά τους υπάρχουν και λέξεις που πληγώνουν.
Με τη βοήθεια αυτού του βιβλίου τα παιδιά μαθαίνουν ότι οι λέξεις τούς ανήκουν, ότι πριν μιλήσουν μπορούν να σκέφτονται και μετά να επιλέγουν τι θα πουν και πώς θα το πουν. Θα ανακαλύψουν ότι υπάρχουν απλοί, θετικοί τρόποι να αντιδρούν όταν οι άλλοι τους λένε λόγια που τα πληγώνουν. Θα συνειδητοποιήσουν τη δύναμη της λέξης συγγνώμη, όταν οι δικές τους λέξεις θα πληγώσουν κάποιον άλλο. Τα κείμενα είναι απλά και σύντομα ώστε να διαβάζονται μεγαλόφωνα από ένα παιδί, από μία ομάδα ή από μία τάξη. Η χαριτωμένη εικονογράφηση και η αμεσότητα των φράσεων καθοδηγούν τα παιδιά στην υιοθέτηση βασικών κανόνων καλής συμπεριφοράς. Στο τέλος του βιβλίου οι ενήλικες θα βρουν θέματα για συζήτηση και δραστηριότητες που μπορούν να πραγματοποιήσουν τα παιδιά.
 The older children get, the more words they know and can use—including hurtful words. This book teaches children that their words belong to them: They can think before they speak, then choose what to say and how to say it. It also explores positive ways to respond when others use unkind words and reinforces the importance of saying "I'm sorry."
*Includes tips for parents and caregivers.



| | |
| --- | --- |
| Pages | 41 |
| Publication Date | 2007 |
| Publisher | Μεταίχμιο/ Metaixmio |
| ISBN | 9789604551705 |
| Binding | Paperback |
| Author | Elisabeth Verdick, Καλλιόπη Κύρδη |
Local Delivery Available for Leeds postcodes
Share
View full details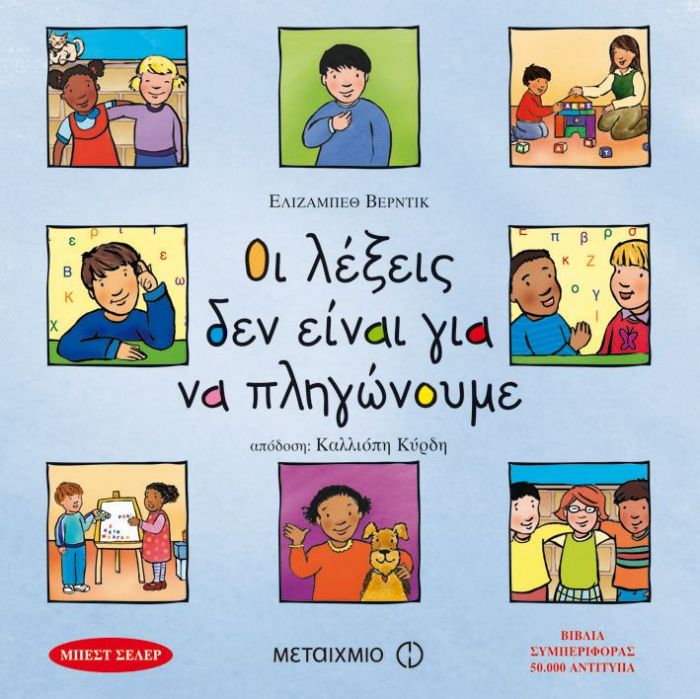 ALL GOODS TRAVEL WITH THE RESPONSIBILITY OF THE CUSTOMER