Τα Νησάκια της Γνώσης Α-Ω - Bilingual/Δίγλωσσο
Regular price
Sale price
£12.99 GBP
Unit price
per
Sale
Sold out
The game includes: 53 big double-sided puzzle pieces with the Greek AND English alphabet, 4 handcrafted cubes with the small case and uppercase letters of the Greek Alphabet, an Educational Guide.

Κατάλληλο για παιδιά από 3 ετών και άνω.
Α - αστέρι, Β - βάζο, Α - apple! Είναι σύµφωνο ή φωνήεν;
Ένωσε τα γράµµατα µε τις λέξεις και µάθε τα γράµµατα στα ελληνικά και στα αγγλικά! Χρησιµοποιώντας τα ειδικά ζάρια της χειροτεχνίας µάθε να αναγνωρίζεις τα γράµµατα, να διαβάζεις λέξεις και να δηµιουργείς προτασούλες µέσα από διασκεδαστικές δράσεις!
Τα "Νησάκια της Γνώσης" είναι µια µοναδική εκπαιδευτική σειρά παιχνιδιών προσχολικής ηλικίας, µε την οποία η κατάκτηση της γνώσης γίνεται πιο διασκεδαστική από ποτέ! Οι θεµατικές ενότητες, οι στόχοι και οι δράσεις έχουν σχεδιαστεί σε συνεργασία µε Έλληνες παιδαγωγούς, σύµφωνα µε το αναλυτικό Πρόγραµµα Σπουδών του Υπουργείου Παιδείας!
Η συσκευασία περιλαμβάνει: 53 µεγάλα κοµµάτια puzzle διπλής όψης µε την ελληνική και αγγλική αλφάβητο, 4 ζάρια χειροτεχνίας µε τα πεζά και κεφαλαία γράµµατα της ελληνικής αλφαβήτας, Παιδαγωγικό Οδηγό.
Κατάλληλο για παιδιά από 3 ετών και άνω.
Ενισχύει τις ευφυΐες:
Διαπροσωπική

Λεκτική/




γλωσσική

 
Local Delivery Available for Leeds postcodes
Share
View full details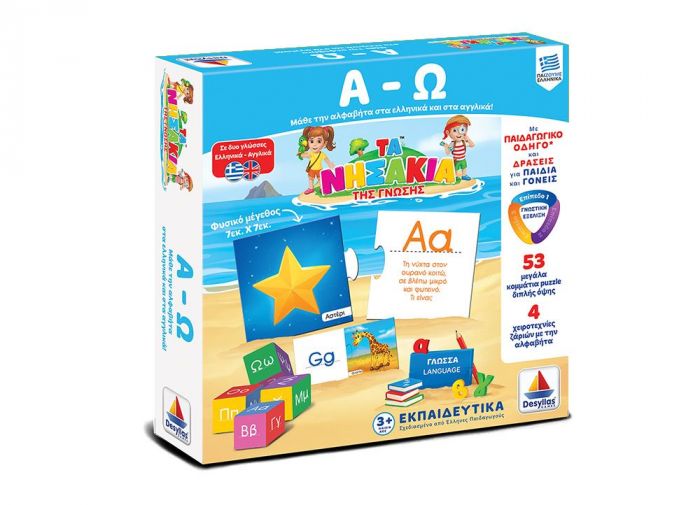 ALL GOODS TRAVEL WITH THE RESPONSIBILITY OF THE CUSTOMER