Οι Ουρές Δεν Είναι για να τις Τραβάμε - Elisabeth Verdick
Regular price
Sale price
£8.99 GBP
Unit price
per
Sale
Sold out
Tails Are Not for Pulling by Elisabeth Verdick in modern Greek.
Μπορεί τα κατοικίδια να μη μιλούν με λέξεις, όμως επικοινωνούν με άλλους τρόπους. Αυτό το βιβλίο προτρέπει τα παιδιά να παρατηρήσουν και να κατανοήσουν τη γλώσσα του σώματος που χρησιμοποιούν τα ζώα, τις εκφράσεις τους, τις φωνές τους. Τα παιδιά μαθαίνουν ότι το πείραγμα ενοχλεί τα ζώα. Αντίθετα, αν επιλέξουν να τους συμπεριφέρονται με ευγένεια, γλυκύτητα και σεβασμό, θα κερδίσουν μια ζεστή, τρυφερή σχέση, μια σχέση ζωής που θα τα κάνει να σέβονται κάθε ζωντανό πλάσμα. Το βιβλίο αυτό γράφτηκε για να διαβάζεται δυνατά και να γίνεται αντικείμενο κουβέντας ανάμεσα στους μεγάλους και τα παιδιά. Στο τέλος του βιβλίου οι ενήλικες θα βρουν θέματα για συζήτηση, χρήσιμες ερωτήσεις και απαντήσεις, πληροφορίες, προτάσεις για δραστηριότητες.
-
If pets could talk, what would they say? Maybe "Fur is for petting, backs are for scratching, noses are for nuzzling . . . and tails are not for pulling!" Toddlers and pets belong together—as long as toddlers don't chase, grab, squeeze, yank, and tease. In simple words and delightful illustrations, this book teaches the basics of kindness to animals: careful handling, awareness, safety, and respect.



| | |
| --- | --- |
| Pages | 42 |
| Publication Date | 2007 |
| Publisher | Μεταίχμιο/ Metaixmio |
| ISBN | 9789604552528 |
| Binding | Paperback |
| Author | Elisabeth Verdick, Καλλιόπη Κύρδη |
*It also includes helpful tips for parents and caregivers.
Local Delivery Available for Leeds postcodes
Share
View full details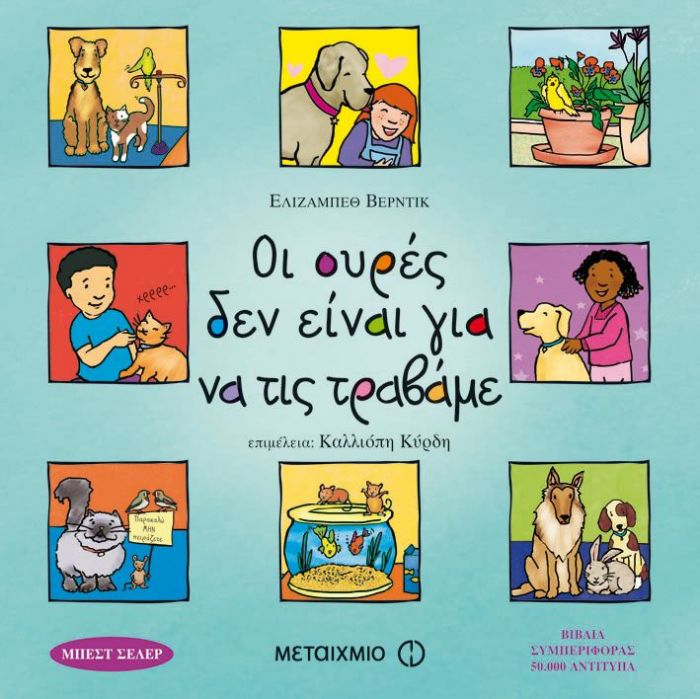 ALL GOODS TRAVEL WITH THE RESPONSIBILITY OF THE CUSTOMER