Παιχνίδια Συναισθηματικής Αγωγής για Παιδιά: Συμπεριφορά, Αυτοπεποίθηση, Φιλία, Συνεργασία
Regular price
Sale price
£10.99 GBP
Unit price
per
Sale
Sold out
Games and Activities for Exploring Feelings with Children: Giving Children the Confidence to Navigate Emotions and Friendships by Vanessa Rogers in modern Greek.
Το βιβλίο που κρατάτε στα χέρια σας αποτελεί ένα πλήρες εγχειρίδιο το οποίο θα βοηθήσει τα παιδιά ηλικίας 7-13 ετών να σκεφτούν και να µιλήσουν για τα συναισθήµατά τους αλλά και για τα θέµατα που τα απασχολούν.
Περιλαµβάνει παιχνίδια και δραστηριότητες που βοηθούν τα παιδιά να κατανοήσουν τα συναισθήµατά τους και να εκφραστούν θετικά. Οι δραστηριότητες που περιέχονται στο βιβλίο αυτό διερευνούν:
- τις σχέσεις µε τους συνοµηλίκους και τις φιλίες
- τον εκφοβισµό και την παραβατικότητα
- τη συµµετοχή και τα δικαιώµατα του πολίτη
- την ανάπτυξη της αυτοεκτίµησης
- την αφύπνιση των φιλοδοξιών
- την αύξηση των κινήτρων.
Οι δραστηριότητες προάγουν τη συναισθηµατική ευηµερία και ενθαρρύνουν τα παιδιά να βάζουν πρώτα σε λέξεις όσα αισθάνονται και ύστερα να προχωρούν σε πράξεις, βοηθώντας τα µε τον τρόπο αυτό να είναι ασφαλή και χαρούµενα.
Το βιβλίο απευθύνεται σε εκπαιδευτικούς, κοινωνικούς λειτουργούς, εµψυχωτές και όσους δουλεύουν µε παιδιά και αναζητούν νέες και συναρπαστικές ιδέες για παιχνίδια και δραστηριότητες.



| | |
| --- | --- |
| Pages | 128 |
| Publication Date | 2019 |
| Publisher | Πατάκης/ Patakis |
| ISBN | 9789601651248 |
| Binding | Paperback |
| Author | Vanessa Rogers |
Local Delivery Available for Leeds postcodes
Share
View full details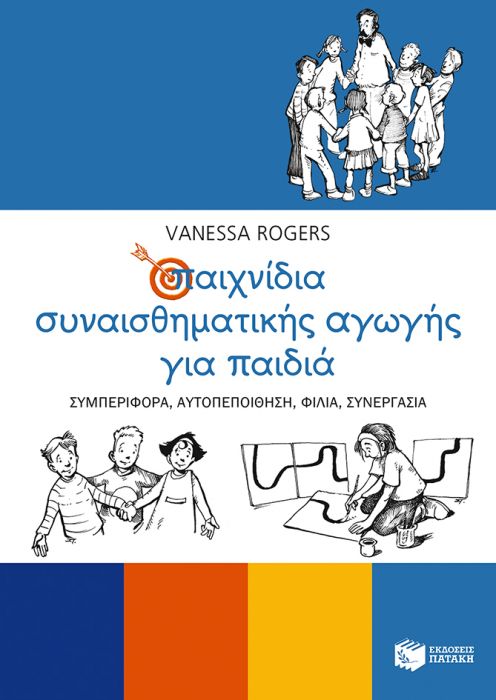 ALL GOODS TRAVEL WITH THE RESPONSIBILITY OF THE CUSTOMER