Πες το Ελληνικά Α1-Α2: Μέθοδος εκμάθησης της Ελληνικής ως Δεύτερης Γλώσσας
Regular price
Sale price
£34.99 GBP
Unit price
per
Sale
Sold out
This new book is aimed at beginner adults and teenagers, who wish to learn Greek as a foreign/second language in an easy, pleasant yet effective manner. Read an excerpt here.

It covers the material provided by the detailed programmes of language attainment in Greek for levels A1 and A2 as laid down on the Common European Framework of Reference.
Contents
dialogues and texts based on realistic everyday situations
grammar tables
systematic, often playful, practice on all communication skills
a wide variety of grammar and vocabulary exercises
review exercises on grammar and vocabulary every five lessons
INCLUDED
the listening material contained in the book (dialogues, texts as well as phonology and listening comprehension exercises)
the organized revision of the grammar and vocabulary learned every five lessons
key to the exercises
two sample tests for levels A1 ad A2 respectively
__________________________________________________________________________________________
Το "πες το ελληνικά Α1 Α2" απευθύνεται σε ενήλικους και εφήβους που επιθυμούν να μάθουν τα ελληνικά ως ξένη/δεύτερη γλώσσα εύκολα, ευχάριστα και πολύ αποτελεσματικά. Έχει σχεδιαστεί για διδασκαλία μέσα σε τάξη. Ωστόσο μπορεί να χρησιμοποιηθεί και για ατομική διδασκαλία, ενώ παράλληλα μπορεί να λειτουργήσει και ως υλικό αυτομάθησης.
Το παρόν εγχειρίδιο καλύπτει την ύλη που προβλέπεται από τα Αναλυτικά Προγράμματα για τα επίπεδα Ελληνομάθειας Α1 και Α2, όπως αυτά ορίζονται στο Κοινό Ευρωπαϊκό Πλαίσιο Αναφοράς για τις Γλώσσες. Ταυτόχρονα έχουν ληφθεί υπόψη οι μαθησιακές ανάγκες και προτεραιότητες των σπουδαστών ανά τον κόσμο.
Συνδυάζει την πείρα δεκαετιών με τις τελευταίες διδακτικές πρακτικές. Μέσα από καθημερινές και σύγχρονες επικοινωνιακές περιστάσεις, ο σπουδαστής έρχεται σε επαφή με το λεξιλόγιο και τη γραμματική και συγχρόνως εξασκείται συστηματικά, συνδυαστικά και με παιγνιώδη τρόπο, μέσα από πληθώρα ασκήσεων διαφορετικού τύπου, σε όλες τις επικοινωνιακές δεξιότητες.
Στον ιστότοπο του εκδότη deltos.gr/downloads θα βρει κανείς:
-το ηχητικό υλικό του βιβλίου (τους διάλογους, τα κείμενα καθώς και τις ασκήσεις ακουστικής κατανόησης και φωνολογικής ενημερότητας)
-τη μεθοδική οργάνωση και επανάληψη της γραμματικής και του λεξιλογίου ανά πέντε μαθήματα
-τις λύσεις των ασκήσεων
-τα δύο υποδειγματικά τεστ για τα επίπεδα Α1 και Α2 αντίστοιχα.

Pages
384
Publication Date
2022
Publisher
Δέλτος / Deltos
ISBN
9789607914460
Binding
Paperback
Author
Froso Arvanitaki
Kleanthis Arvanitakis
Panayiotis Makropoulos
Viviana Tzovara
Local Delivery Available for Leeds postcodes
Share
View full details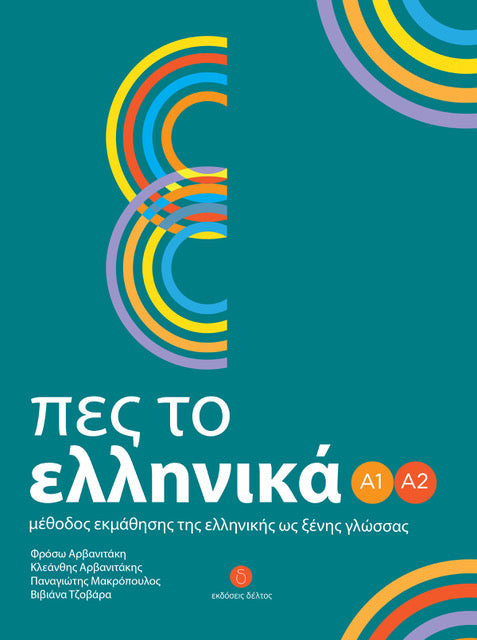 ALL GOODS TRAVEL WITH THE RESPONSIBILITY OF THE CUSTOMER