Πες Το με Μια Ευχή - Σωτηρία Κυρμανίδου
Regular price
Sale price
£13.99 GBP
Unit price
per
Sale
Sold out
A unique selection of artful wishes in Greek to use on various occasions, including Christmas and Easter wishes.
(Από τον Πρόλογο της συγγραφέως) "Από μικρή κρατούσα μολύβι και ζωγράφιζα λέξεις. Αργότερα τα κείμενα μου άρεσαν στους δασκάλους μου και προωθούσαν τις εκθέσεις μου. Εδώ και χρόνια, προσπαθώ να καλλιεργήσω το "τάλαντο" της άνεσης του λόγου και της γραφής που μου έδωσε ο καλός Θεός. Έτσι λοιπόν, γράφθηκαν στίχοι, πολλοί στίχοι, αργότερα και παραμύθια. Πολλές φορές συγγενείς και φίλοι με αναζήτησαν και αυτά τα ίδια τα παιδιά μου για να γράψουν κάτι ξεχωριστό, να εκφραστούν.
Έτσι λοιπόν γεννήθηκε η ιδέα αυτής της έκδοσης. Να διευκολύνει όλους όσους δυσκολεύονται κάποια στιγμή να εκφράσουν ό,τι αισθάνονται. Σας ευχαριστώ που μου δίνετε την ευκαιρία να εκφραστώ εγώ για εσάς. Σωτηρία Κ. "
Περιεχόμενα:
- Ευχές της Αγάπης
- Ευχές για το Γάμο
- Ευχές για το Νεογένητο
- Χριστουγεννιάτικες Ευχές
- Αναστάσιμες Ευχές
- Ποικίλες Ευχές



| | |
| --- | --- |
| Pages | 65 |
| Publication Date | 2010 |
| Publisher | Σωτηρία Κυρμανίδου |
| ISBN | 9789609282918 |
| Binding | Paperback |
| Author | Σωτηρία Κυρμανίδου |
Local Delivery Available for Leeds postcodes
Share
View full details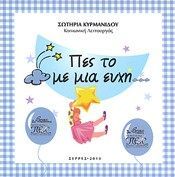 ALL GOODS TRAVEL WITH THE RESPONSIBILITY OF THE CUSTOMER