Η Πύλη του Πεπρωμένου - Agatha Christie
Regular price
Sale price
£12.99 GBP
Unit price
per
Sale
Sold out
The Postern of Fate in modern Greek. Read an excerpt here.
«Δεν εκτιμάς τον πιστό σύζυγο που σου έτυχε», είπε ο Τόμι.
«Όλες οι φίλες μου όλες λένε ότι ποτέ δεν μπορείς
να ξέρεις με τους άντρες», είπε η Τάπενς.
«Λάθος φίλες έχεις», είπε ο Τόμι.

Ο Τόμι και η Τάπενς Μπέρεσφορντ είναι πολύ περήφανοι που απέκτησαν ένα παλιό σπίτι στην αγγλική επαρχία. Μαζί με το ακίνητο όμως κληρονόμησαν και όλη τη σαβούρα που περιείχε, συμπεριλαμβανομένης μιας συλλογής παμπάλαιων βιβλίων. Ξεφυλλίζοντας ένα αντίτυπο του Μαύρου βέλους, η Τάπενς θα παρατηρήσει κάμποσες φαινομενικά τυχαίες υπογραμμίσεις. Ωστόσο, όταν σημειώνει σε ένα χαρτί τα αρχικά γράμματα των υπογραμμισμένων λέξεων, ένα ανησυχητικό μήνυμα σχηματίζεται:
Η Μαίρη Τζόρνταν δεν πέθανε από φυσιολογικά αίτια…
Και εξήντα χρόνια μετά τον πρώτο φόνο, οι εχθροί της Μαίρης Τζόρνταν εξακολουθούν να είναι έτοιμοι να σκοτώσουν.
| | |
| --- | --- |
| Pages | 312 |
| Publication Date | 2021 |
| Publisher | Ψυχογιός/Psichogios |
| ISBN | 9786180136944 |
| Binding | Paperback |
| Author | Agatha Christie |
Local Delivery Available for Leeds postcodes
Share
View full details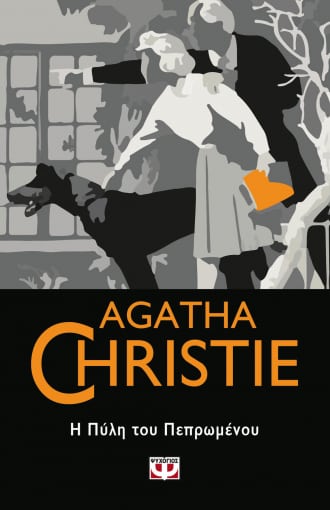 ALL GOODS TRAVEL WITH THE RESPONSIBILITY OF THE CUSTOMER