Ο Ρένος κάνει σινεμά - Magali Le Huche (Music Book)
Regular price
Sale price
£14.99 GBP
Unit price
per
Sale
Sold out
Paco fait son cinéma by Magali Le Huche in modern Greek. Listen to a sample of the book sounds here.

Read an excerpt here.
Ανακάλυψε μαζί με τον Ρένο τη μουσική του σινεμά!
Ο Ρένος λατρεύει το σινεμά. Μια μέρα, ονειρεύεται ότι παίζει τον ρόλο ενός καουμπόη, ενός σούπερ ήρωα… ακόμα κι ενός ταξιδιώτη στ' άστρα! Είναι πραγματικά μαγικό το σινεμά! Άκουσε τις μελωδίες και θα μαγευτείς κι εσύ!
Η σειρά-φαινόμενο που έχει ήδη αγαπηθεί και στην Ελλάδα, με μεταφράσεις σε 22 γλώσσες και 1,4 εκατομμύρια πωληθέντα αντίτυπα παγκοσμίως.
Εδώ και χρόνια οι Εκδόσεις Πατάκη πρωτοπορούν στην κατηγορία των ηχητικών βιβλίων με μια μεγάλη συλλογή διαλεγμένη με φροντίδα για τα πρώτα βήματα των παιδιών σας στο διάβασμα και στη μουσική. Βιβλία που βοηθούν τα παιδιά να ξεδιπλώσουν τα συναισθήματα αλλά και τα ταλέντα τους.



| | |
| --- | --- |
| Pages | 28 |
| Publication Date | 2022 |
| Publisher | Πατάκης/ Patakis |
| ISBN | 9789601699707 |
| Binding | Hardback |
| Author | Magali Le Huche |
Local Delivery Available for Leeds postcodes
Share
View full details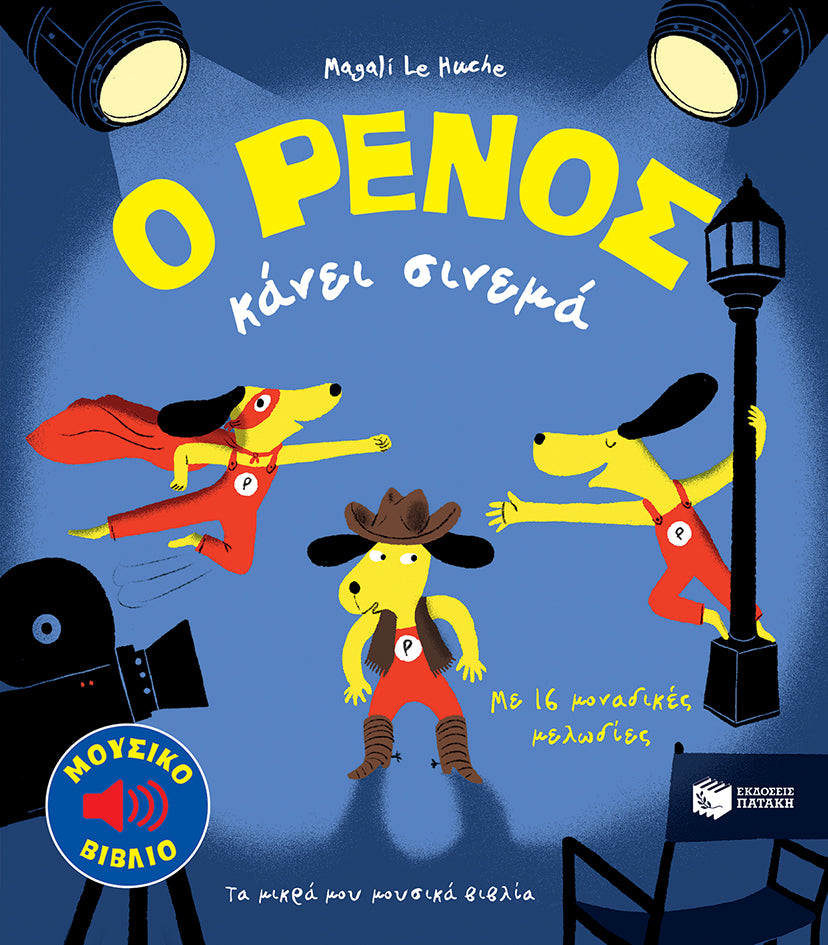 ALL GOODS TRAVEL WITH THE RESPONSIBILITY OF THE CUSTOMER