Τα Ρήματα της Νεοελληνικής Γλώσσας για το Δημοτικό
Regular price
Sale price
£9.99 GBP
Unit price
per
Sale
Sold out
Modern Greek Verbs for Primary School.
Theory, conjugation and the most common Greek verbs in all tenses.
Το βιβλίο αυτό περιέχει θεωρία, πίνακες, κλίσεις ρημάτων, όλα τα ρήματα του βασικού λεξιλογίου του δημοτικού σχολείου στο πρώτο πρόσωπο όλων των χρόνων της οριστικής και σε άλλους βασικούς τύπους, καθώς και όλα τα ανώμαλα ρήματα της γλώσσας μας σε όλους τους τύπους. Απευθύνεται στους δασκάλους που μοχθούν να διδάξουν σωστά τη γλώσσα μας, στους μαθητές που προσπαθούν να κατακτήσουν το σημαντικό κεφάλαιο της γραμματικής που αφορά τα ρήματα και στους γονείς που επιθυμούν να βοηθήσουν υπεύθυνα τα παιδιά τους. 



| | |
| --- | --- |
| Pages | 128 |
| Publication Date | 2012 |
| Publisher | Πατάκης/Patakis |
| ISBN | 9789602935408 |
| Binding | Paperback |
| Author | Γιάννης Κ. Γιαννακόπουλος, Κώστας Ραπτόπουλος |
Local Delivery Available for Leeds postcodes
Share
View full details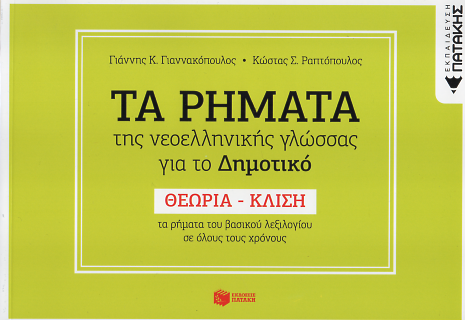 ALL GOODS TRAVEL WITH THE RESPONSIBILITY OF THE CUSTOMER