Siddhartha - Hermann Hesse
Regular price
Sale price
£13.99 GBP
Unit price
per
Sale
Sold out
Siddhartha by Hermann Hesse in modern Greek.
Το "Σιντάρτα" είναι ένα από τα βασικά μυθιστορηματικά τεκμήρια της σύγχρονης εποχής. Καταγραφή της πορείας ενός ανθρώπου που ψάχνει να βρει τον εαυτό του και τη βαθύτερη αλήθεια της ζωής, γραμμένη με βιβλική σχεδόν απλότητα και ομορφιά, που καταλήγει σ' έναν παθιασμένο ύμνο της ατομικότητας και της πνευματικής ανεξαρτησίας. Δεν είναι περίεργο που το βιβλίο τούτο, απαλλαγμένο από τις βαριές, αποπνικτικές αναθυμιάσεις της εποχής των ορθοδοξιών και των δογμάτων, έγινε κάτι σαν ευαγγέλιο για τις γενιές του ποπ και του ροκ, για τις γενιές της σύγχρονης μαρκουζικής μεταμαρξιστικής αμφισβήτησης.
Μέσα στις λιγοστές σελίδες του "Σιντάρτα", οι νέοι βρήκαν την πιστή, αποκαλυπτική αντανάκλαση του κόσμου που αγωνίζονται να δημιουργήσουν: ενός κόσμου όπου η πείρα και η γνώση κατακτούνται και δε χαρίζονται, όπου ο έρωτας είναι μαθητεία, γνωστική περιπέτεια κι όχι φτηνός συναισθηματισμός, ενός κόσμου, τέλος, όπου η ζωή προχωρεί προς το αύριο, χωρίς να δεσμεύεται από την πίστη και τις φιλοδοξίες κανενός χθες. Είναι αμφίβολο αν υπάρχει στη σύγχρονη λογοτεχνία άλλο βιβλίο τόσο αποκαλυπτικό, τόσο πολύτιμο για τους νέους του καιρού μας... για όσους θέλουν να είναι νέοι.
...
Siddhartha is perhaps the most important and compelling moral allegory our troubled century has produced. Integrating Eastern and Western spiritual traditions with psychoanalysis and philosophy, this strangely simple tale, written with a deep and moving empathy for humanity, has touched the lives of millions since its original publication in 1922. Set in India, Siddhartha is the story of a young Brahmin's search for ultimate reality after meeting with the Buddha. His quest takes him from a life of decadence to asceticism, from the illusory joys of sensual love with a beautiful courtesan, and of wealth and fame, to the painful struggles with his son and the ultimate wisdom of renunciation.
| | |
| --- | --- |
| Pages | 166 |
| Publication Date | 2006 |
| Publisher | Εκδόσεις Καστανιώτη |
| ISBN | 9789600341904 |
| Binding | Paperback |
| Author | Hermann Hesse |
Local Delivery Available for Leeds postcodes
Share
View full details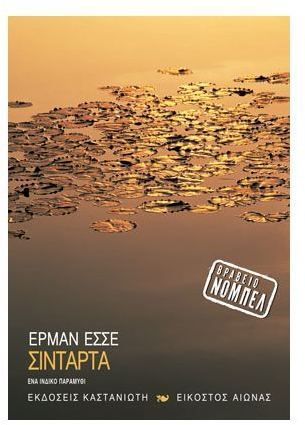 ALL GOODS TRAVEL WITH THE RESPONSIBILITY OF THE CUSTOMER