Ταξίδι στην Ελλάδα Νο.1 (Επίπεδα Α1 & Α2) +CD
Regular price
Sale price
£32.99 GBP
Unit price
per
Sale
Sold out
Για τα περιεχόμενα του βιβλίου πατήστε εδώ 
Για να δείτε δείγμα από το βιβλίο πατήστε εδώ.
Tο βιβλίο αυτό απευθύνεται σε όσους διδάσκουν και διδάσκονται την Ελληνική ως δεύτερη ή ξένη γλώσσα. Πρόκειται για ένα διδακτικό εγχειρίδιο που εστιάζει στους φοιτητές / στις φοιτήτριες Erasmus, EILC, φοιτητές / στις φοιτήτριες άλλων προγραμμάτων εκμάθησης της ελληνικής γλώσσας (π.χ. Θερινοί Υπότροφοι Γλώσσας) που ανήκουν στο επίπεδο των αρχαρίων (Α1-Α2) και γενικότερα σε ταχύρρυθμους και σύντομους κύκλους μαθημάτων για την εκμάθηση της Νέας Ελληνικής. Στόχος του βιβλίου είναι να βοηθήσει τους εκπαιδευόμενους / τις εκπαιδευόμενες να αποκτήσουν βασικές δεξιότητες, ώστε να είναι σε θέση να ανταποκριθούν σε πραγματικές επικοινωνιακές περιστάσεις και να έχουν μια ενδεικτική εικόνα στοιχείων της ελληνικής κουλτούρας και πολιτισμού. Για τη σύνταξη του εγχειριδίου ελήφθη υπόψη το αντίστοιχο Αναλυτικό Πρόγραμμα του Πανεπιστημίου Αθηνών αλλά και τα επίπεδα γλωσσομάθειας του ΚΕΓ. 
Το βιβλίο δομείται από 20 Ενότητες - Μαθήματα, τα οποία καλύπτουν ποικίλες επικοινωνιακές καταστάσεις με επίκαιρη θεματική και παρουσιάζεται το σύνολο των γραμματικοσυντακτικών φαινομένων που είναι απαραίτητα για τα επίπεδα αυτά. Το υλικό είναι γραμμένο σε γλώσσα άμεση και φιλική και για τη χρήση του δεν απαιτούνται προϋπάρχουσες γνώσεις της Νέας Ελληνικής. Πλαισιώνεται από εικόνες, σκίτσα και τραγούδια που στόχο έχουν να κάνουν ακόμα πιο ζωντανό το ταξίδι στην εκμάθηση της γλώσσας και τη γνωριμία με τον ελληνικό  πολιτισμό. Οι ασκήσεις που έχουν επιλεγεί καλύπτουν το φάσμα τόσο της γραμματικής και του λεξιλογίου όσο και των δεξιοτήτων παραγωγής και κατανόησης προφορικού και γραπτού λόγου. Το βιβλίο συνοδεύεται από CD με ασκήσεις ακουστικής κατανόησης, καθώς και από παράρτημα λύσεων, γεγονός που το καθιστά κατάλληλο και για αυτοδιδασκαλία.
______________________________________________________________________________________
  This book is addressed to those who teach or are taught Greek as a second or foreign language. It is an instructive textbook focusing on students who belong to the beginners' level (A1-A2) and attend intensive and short courses on Modern Greek language learning (e.g. Erasmus, EILC, Scholars etc.). The aim of the book is to help learners obtain basic skills, so as to be able to respond to real-life communication circumstances and formulate an indicative picture of Greek culture and civilization. For the drafting of the textbook the authors have taken into consideration the relevant curriculum of Athens University as well as the levels of language proficiency, defined by the Common European Framework of Reference for Languages (CEFR). 
The book consists of 20 Units-Lessons, covering a variety of current communication circumstances with opportune themes and presenting all the phenomena of grammar and syntax, which are essential to these levels. The material is written in a way friendly to the reader and its use requires no pre-existing knowledge on Modern Greek language. It is framed by images, sketches and songs, aimed at making even more lively the journey of language learning and the acquaintance with the Greek civilization.
The exercises that have been selected cover the spectrum of both grammar and vocabulary of beginners' levels as well as the range of skills needed to understand and produce verbal and written speech. The book is accompanied by a CD with the dialogues and the exercises of listening comprehension of each unit. At the end of the book what is available is an appendix, containing the keys to all questions.

| | |
| --- | --- |
| Pages | 247 |
| Publication Date | 2012 |
| Publisher | Γρηγόρης / Grigoris |
| ISBN | 9789603337546 |
| Binding | Paperback |
| Author | Collective |
Local Delivery Available for Leeds postcodes
Share
View full details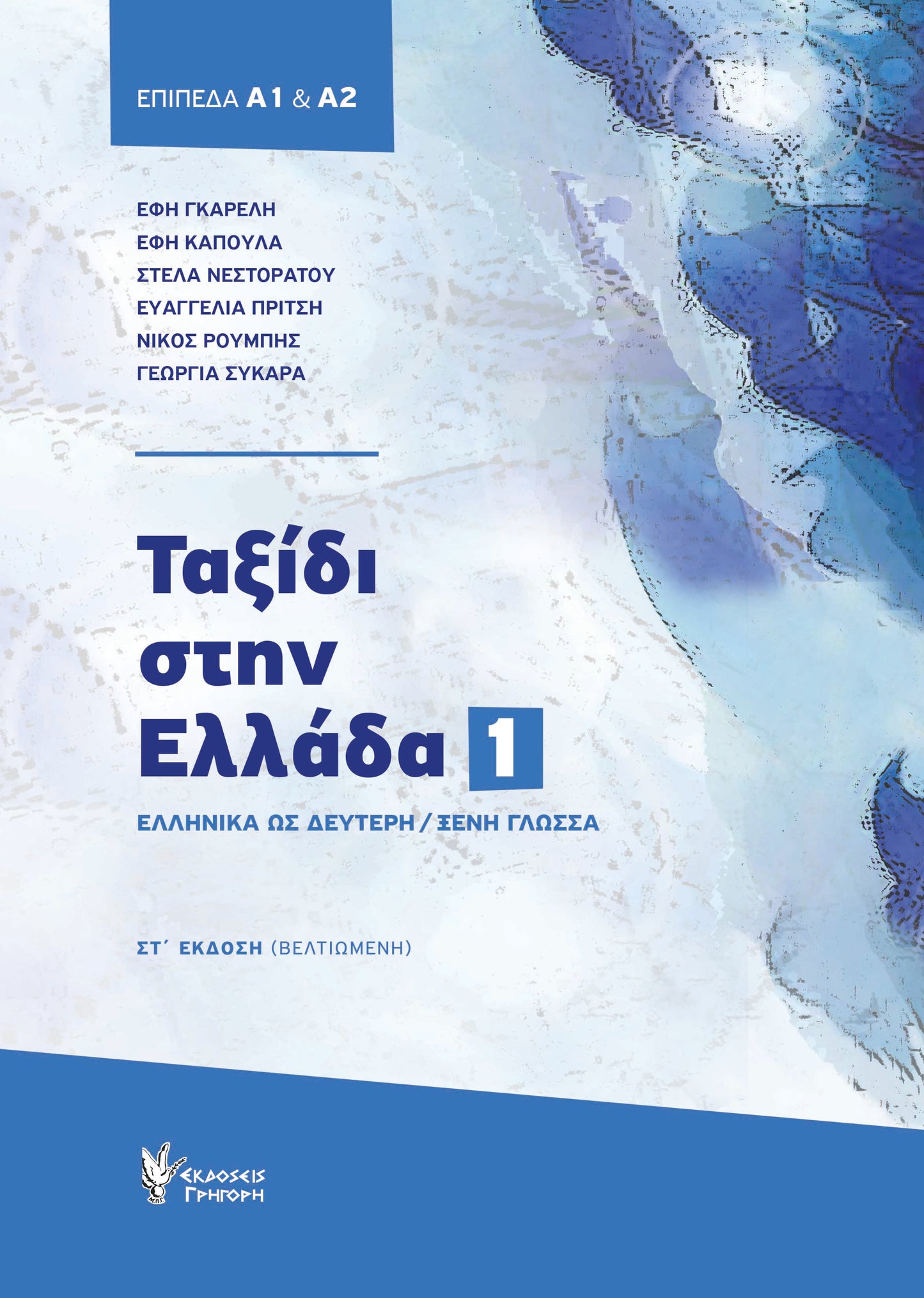 ALL GOODS TRAVEL WITH THE RESPONSIBILITY OF THE CUSTOMER