Τόλμησε Να Ηγηθείς - Brené Brown
Regular price
Sale price
£17.99 GBP
Unit price
per
Sale
Sold out
Dare to Lead by Brené Brown in modern Greek.
H τολμηρή ηγεσία είναι μια σειρά δεξιοτήτων απόλυτα διδάξιμη, παρατηρήσιμη και μετρήσιμη. 
Η Μπρενέ Μπράουν έχει περάσει τις τελευταίες δύο δεκαετίες μελετώντας τα συναισθήματα και τις εμπειρίες που δίνουν νόημα στη ζωή μας, και τα τελευταία εφτά χρόνια δουλεύοντας με προοδευτικούς ηγέτες και ομάδες σε ολόκληρο τον κόσμο. Η ίδια ανακάλυψε ότι, από τις μικρές start-up και τις  οικογενειακές επιχειρήσεις μέχρι τους μη κερδοσκοπικούς οργανισμούς και τις μεγαλύτερες εταιρείες διεθνώς, οι ηγέτες θέτουν όλοι την ίδια ερώτηση:
Πώς διαμορφώνουμε πιο γενναίους και τολμηρούς ηγέτες και πώς ενσωματώνουμε την αξία του θάρρους στην κουλτούρα του κάθε οργανισμού;
Η Μπρενέ Μπράουν έχει δική της εκπομπή στο Netflix για θέματα ενδυνάμωσης και προσωπικής βελτίωσης.

Τα βιβλία της έχουν κατακτήσει 4 φορές την κορυφή της λίστας των New York Times.

Η ομιλία της στο TED για τη Δύναμη της Ευαλωτότητας είναι μια από της 5 πιο δημοφιλείς εκπομπές TED στον κόσμο, με πάνω από 35 εκ. προβολές μέχρι σήμερα.
Είπαν για το βιβλίο:  
«Η Μπρενέ συγκέντρωσε έρευνες δεκαετιών σε έναν πρακτικό και εύστοχο οδηγό γενναίας ηγεσίας. Το Τόλμησε να ηγηθείς λειτουργεί σαν οδικός χάρτης για όποιον θέλει να ηγηθεί με ενσυνειδητότητα, να ζήσει με θάρρος και να τολμήσει να βγει μπροστά.»                                                                                                                                                
– Sheryl Sandberg, COO του Facebook, ιδρύτρια των LeanIn.Org και OptionB.Org
«Είναι εύκολο να μιλάει κανείς για την αξία μιας ασφαλούς κουλτούρας γεμάτης νόημα, αλλά εξαιρετικά δύσκολο να την καλλιεργήσει. Η σωστή κουλτούρα επιτυγχάνεται με διαρκή προσοχή, σε ένα πλαίσιο ασφάλειας, θάρρους και ευαλωτότητας. Δύσκολες δεξιό-τητες, όμως μαθαίνονται, και μπορείτε να αρχίσετε από αυτό το βιβλίο.»                                                                                                                                               
–Ed Catmull, Πρόεδρος της Pixar and Walt Disney Animation Studios
«Το Τόλμησε να ηγηθείς θα σας κάνει να αμφισβητήσετε όλα όσα νομίζετε ότι ξέρετε για τη γενναία ηγεσία και θα σας δώσει τίμια, εύχρηστα και πρακτικά εργαλεία για να επιλέγετε το θάρρος αντί για τη βολή σας.»
–Tarana Burke, Ανώτατη Διευθύντρια της Girls for Gender Equity, ιδρύτρια του κινήματος Me Too
 
...
Brené Brown spent the past two decades researching the emotions that give meaning to our lives. Over the past seven years, she found that leaders in organizations ranging from small entrepreneurial start-ups and family-owned businesses to non-profits, civic organizations and Fortune 50 companies, are asking the same questions:

How do you cultivate braver, more daring leaders? And, how do you embed the value of courage in your culture?

Dare to Lead answers these questions and gives us actionable strategies and real examples from her new research-based, courage-building program.



| | |
| --- | --- |
| Pages | 400 |
| Publication Date | 2020 |
| Publisher | Κλειδάριθμος/ Kleidarithmos |
| ISBN | 9789604619795 |
| Binding | Paperback |
| Author | Brené Brown/ Μπρενέ Μπράουν |
Local Delivery Available for Leeds postcodes
Share
View full details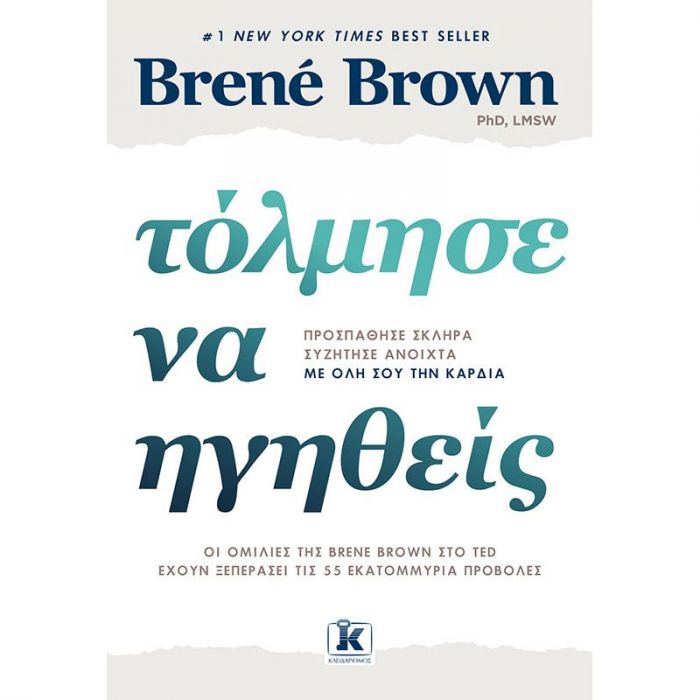 ALL GOODS TRAVEL WITH THE RESPONSIBILITY OF THE CUSTOMER