Βικτώρια, Η Νεαρή Βασίλισσα / Victoria - Daisy Goodwin
Regular price
Sale price
£19.99 GBP
Unit price
per
Sale
Sold out
Victoria by Daisy Goodwin, the creator of the ITV television series, in modern Greek.
«Δεν μου αρέσει το όνομα Αλεξαντρίνα. Τώρα είμαι βασίλισσα, αποφάσισα να ονομάζομαι με το δεύτερό μου όνομα, Βικτώρια. Αυτό το όνομα είναι το δικό μου».

Τον Ιούνιο του 1837, η δεκαοχτάχρονη Βικτώρια ξυπνά για να μάθει πως είναι βασίλισσα του πιο ισχυρού έθνους στον κόσμο. Θα γίνει όμως βασίλισσα αυτόφωτη ή μαριονέτα στα χέρια της μητέρας της και του καταχθόνιου σερ Τζον Κόνροϋ; Μπορεί αυτό το μικρόσωμο κορίτσι να ορθώσει το ανάστημά του απέναντι σε άντρες σαν τον θείο της, τον δούκα του Κάμπερλαντ, ο οποίος πιστεύει ότι οι γυναίκες είναι πολύ υστερικές για να κυβερνούν; Όλοι θέλουν να τη δουν παντρεμένη, η Βικτώρια όμως δεν έχει σκοπό να εμπλακεί σε έναν γάμο από συμφέρον με τον ξάδελφό της Αλβέρτο, έναν ντροπαλό βιβλιοφάγο, που απ' ό,τι θυμάται δεν ξέρει καν να χορεύει. Προτιμά να κυβερνήσει μόνη, με λίγη βοήθεια από τον πρωθυπουργό της, τον λόρδο Μέλμπουρν. Θα μπορούσε να είναι πατέρας της, είναι ο μοναδικός άντρας που πιστεύει πως θα γίνει σπουδαία βασίλισσα και ξέρει και πώς να την κάνει να γελά. Ένας σύζυγος δεν θα ήταν παρά εμπόδιο...
---
From the creator of the ITV Sunday night drama, VICTORIA, comes the exclusive standalone novel by Daisy Goodwin, author of the bestselling MY LAST DUCHESS and THE FORTUNE HUNTER. Perfect for fans of epics such as War and Peace, Poldark or Granchester In June 1837, the eighteen-year-old Victoria wakes up to find that she is Queen of the most powerful nation in the world. But will she be queen in her own right, or a puppet controlled by her mother and the sinister Sir John Conroy? Can this tiny girl prevail against the men who believe that women are too hysterical to rule? Everyone wants her to get married, but Victoria has no intention of entering into a marriage of convenience with her cousin Albert, a shy bookworm who didn't know how to dance the last time she met him. She would much rather reign alone with a little help from her Prime Minister, Lord Melbourne. He may be old enough to be her father, but he is the only man who believes that she will be a great Queen, and he knows how to make her laugh. A husband would only get in the way...
More Information

| | |
| --- | --- |
| Pages | 520 |
| Publication Date | 2019 |
| Publisher | Πατάκης/Patakis |
| ISBN | 9789601675916 |
| Binding | Paperback |
| Author | Daisy Goodwin |
Local Delivery Available for Leeds postcodes
Share
View full details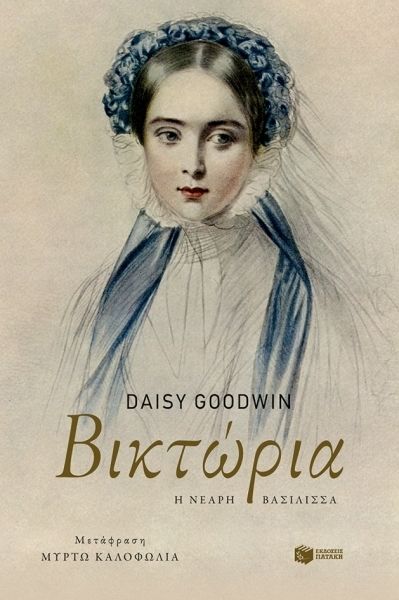 ALL GOODS TRAVEL WITH THE RESPONSIBILITY OF THE CUSTOMER