Η υπέροχη γλώσσα: 9 λόγοι για να αγαπήσεις τα αρχαία ελληνικά - Andrea Marcolongo
Regular price
Sale price
£14.99 GBP
Unit price
per
Sale
Sold out
The Ingenious Language: Nine Epic Reasons to Love Greek by Andrea Marcolongo in modern Greek. Read an excerpt here.
Το ξέρουµε όλοι: η πρώτη αντίδραση µπροστά σ' ένα αρχαίο κείµενο κυµαίνεται ανάµεσα στην παράλυση και στον γνήσιο τρόµο. Επέλεξα εννέα λόγους για ν' αγαπήσω και να µιλήσω γι' αυτό που η ελληνική γλώσσα είναι σε θέση να λέει µε τρόπο µοναδικό, ξεχωριστό, διαφορετικό από κάθε άλλη γλώσσα – και ναι, για να διαλύσω τους φόβους σας, µετατρέποντάς τους ενδεχοµένως σε πάθος.

Πάνω απ' όλα αυτό το βιβλίο µιλάει γι' αγάπη: η αρχαία ελληνική γλώσσα ήταν η πιο µακροχρόνια και πιο ωραία ιστορία της ζωής µου. Δεν έχει σηµασία αν ξέρετε αρχαία ελληνικά ή όχι. Αν ναι, θα σας αποκαλύψω ιδιαιτερότητες για τις οποίες κανείς δε σας µίλησε στο λύκειο, ενώ σας βασάνιζαν µε καταλήξεις ονοµάτων και παραδείγµατα. Αν όχι, τόσο το καλύτερο. Η περιέργειά σας θα είναι η λευκή σελίδα που θα γεµίσετε.

Με δυο λόγια, η αρχαία ελληνική γλώσσα είναι ένας τρόπος να βλέπεις τον κόσµο, ένας τρόπος, ειδικά σήµερα, χρήσιµος και µεγαλοφυής. Δεν προβλέπονται εξετάσεις ούτε διαγωνίσµατα στην τάξη: αν, στο τέλος της ανάγνωσης, έχω καταφέρει να σας παρασύρω και ν' απαντήσω σε ερωτήσεις που δεν είχατε θέσει ποτέ στον εαυτό σας, αν τελικά καταλάβετε τον λόγο τόσων ωρών µελέτης, τότε θα έχω πετύχει τον στόχο µου.
Α.Μ.
| | |
| --- | --- |
| Pages | 243 |
| Publication Date | 2017 |
| Publisher | Πατάκης |
| ISBN | 9789601677545 |
| Binding | Paperback |
| Author | Andrea Marcolongo |
Local Delivery Available for Leeds postcodes
Share
View full details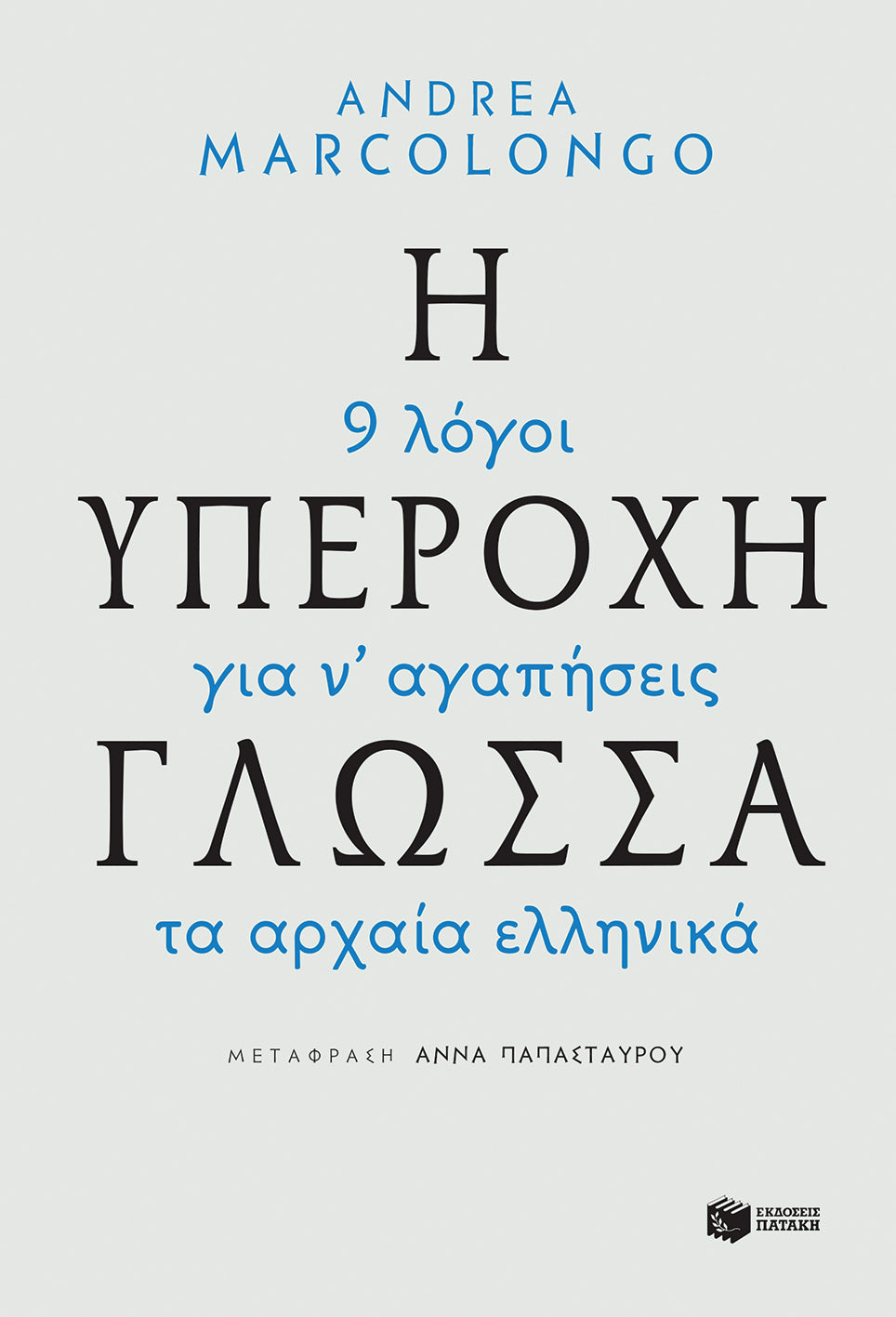 ALL GOODS TRAVEL WITH THE RESPONSIBILITY OF THE CUSTOMER