Ζογκ – Axel Scheffler / Julia Donaldson / Φίλιππος Μανδηλαράς
Regular price
Sale price
£14.99 GBP
Unit price
per
Sale
Sold out
Zog in modern Greek. Παρά τα παθήματά του, ο Ζογκ με την επιμονή του θα γίνει ο πιο αγαπητός ήρωας μιας απίθανης ιστορίας!
Ο Ζογκ είναι το πιο καλόκαρδο δρακάκι του δρακοσχολείου.
Είναι, όμως, και λίγο απρόσεκτος και κάθε φορά που μαθαίνει να βρυχάται, να πετάει ή να βγάζει φωτιές, κάτι του συμβαίνει.
Όμως, ποιο είναι αυτό το κορίτσι που βρίσκεται πάντοτε εκεί για να του συμπαρασταθεί;
Θα μπορέσει να τον βοηθήσει στη δυσκολότερη δοκιμασία: να πιάσει δηλαδή μια πριγκίπισσα;


Από τους δύο δημιουργούς κυκλοφορεί ακόμη το βιβλίο Ο γάμος των δύο σκιάχτρων, και Ο Ξυλαράκης, ενώ από τον Axel Scheffler κυκλοφορεί η επιτυχημένη σειρά βιβλίων Τικ και Τέλα.
Zog is the keenest dragon in school - and the clumsiest. Luckily, a mysterious little girl always comes by to patch up his bumps and bruises. But will she be able to help Zog with his toughest test yet: capturing a princess? And will Zog ever manage to win a gold star?
| | |
| --- | --- |
| Pages | 32 |
| Publication Date | 2017 |
| Publisher | Ίκαρος / Ikaros |
| ISBN | 9789605721381 |
| Binding | Hardback |
| Author | Axel Scheffler / Julia Donaldson |
Local Delivery Available for Leeds postcodes
Share
View full details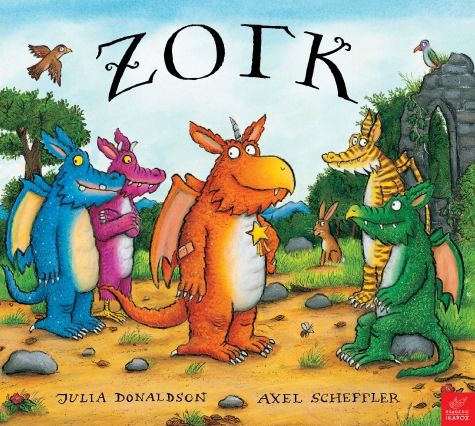 ALL GOODS TRAVEL WITH THE RESPONSIBILITY OF THE CUSTOMER